I like to think I am on the "cutting edge" of some things. New products, trends, new restaurants, a new app. However, this post is not about one of them!!!!
A few weeks ago I had no intention of reading Hunger Games or seeing the movie. I didn't pay much attention to anything about it. The only thing I did know was that the book was required summer reading for my daughter and all freshmen entering high school last fall in our school district. Automatically, I thought that meant it was another teeny bopper book, much like the Twilight series and although I know many "moms" got into those books. I was not one of them.
.
However, after my daughter saw the movie the first weekend it was out and then hearing from some fellow bloggers and others that had also read the book, my curiosity was peaked. Maybe there is more to this book, so I decided to make a go of reading it. I also thought it would be another way to connect with my daughter, Megan.
As a stroke of luck, the Hunger Games trilogy was available for Nook download via the www.hip2save.com website for $5 (and some change) for all three books. I had noooo idea really what the book was about, but I have to admit that when I found out Liam Hemsworth was in the movie it was an added incentive (I don't know why, because I could be his Grandma -- ha!).
Although I found it difficult to read more than a chapter at a time due to distractions around the house and having 3 kids home for Spring Break, I did manage to finish the book in 2 weeks thanks to some late night reading. The book was excellent! Loved it!! It should also be noted that if anyone had explained the premise of the book or movie to me, I would have said "not my kind of thing" -- and yet, it was!
When Megan learned I was reading it, she made me "pinky promise" to bring her along when I went to see the movie.
So, on a recent Saturday morning ($4 show 'cause I'm "thrifty" like that), we all went to the theatre. My younger two kids saw the "Three Stooges" and me, my husband and Megan saw Hunger Games. What a difference two weeks makes. I laughed that the theatre parking lot was virtually empty as most people had probably already seen the movie!!
I liked the movie very much, but I loved the details in the book. Even though the movie is over two hours long, the storyline goes much faster than it does with all of the details in the book.
I don't think I've ever read a book after a movie came out and then made it to the movie during it's first run. In the end, I am glad I did! It also made for lots of conversation for me and Megan...especially when we explained to my husband what was left out of the movie. For the record, he enjoyed the movie without reading the book.
So, there you have it. I have moved on to the second book in the trilogy, "Catching Fire". Since that movie has not even been cast yet, it appears I have lots of time to read this one!!
There's still time to jump on the Hunger Games band wagon!! Have you read the book or seen the movie? What did you think?
Sneaking in some late night reading...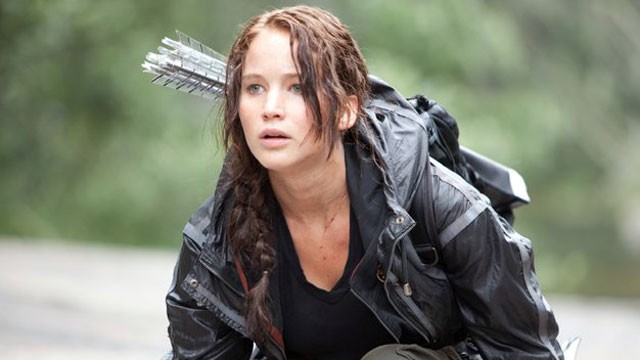 Avoid the rush...see a movie two weeks after it comes out!