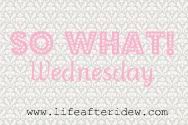 to tell you what I say "
So What" to! Here we go....
So WHAT if:


My non-blogging friends probably have no idea why I "So What" on Wednesdays...

My daughter wants us to go shopping for a homecoming dress (wasn't she just 3 years old last year??)

I've been playing gas tank roulette lately...I don't go to the gas station until my warning says I have about 30 or so miles left...sometimes less. (When I'm doing errands I just wanna keep going!)

My husband says it's bad to play gas tank roulette...LOL

I missed my daughter's first soccer game this fall...and, of course, she scored a goal

I have just started putting my house back together from the chaos of the kids being home for the summer and my mom living in my dining room for six months

I finally "caved" and got a FB account....darn it! I was trying to be a "hold out" but wanted to do Pinterest!

I got totally creeped out when my husband's picture and my boyfriend from 7th grade appeared next to each other as "people I may know" on FB!!

I haven't "so whated" in over a month -- but it feels good to be back! ;)
Sooooo....What are YOU saying
SO WHAT to this week????
Link up
...it's fun, you'll feel better, and I'd love to know!!