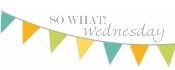 It's SO WHAT! Wednesday and I'm linking up with Shannon at
Life After I "Dew"
to tell you what I say "
So What" to! Here we go....
So WHAT if:
My shoe collection has tripled now that two of my kids wear the same size shoe as I do (what happens at home while they're at school...stays at home)!

I am still injured because I literally fell out of my car (flat on my knees) last weekend because my foot was stuck in my purse straps. Funny...yet not... since it's a raised crossover

My high school daughter unfriended me on Facebook (read boys)...and then friended me again within 24 hours... 'cause I pretty much made her

High school parent teacher conferences are today...and sometimes I feel like I'm still in high school

my 11 year old kids (twins) absolutely freaked out from nerves on the way to the doctor yesterday because they knew they were going to get at least 2 shots...oh the drama

I've never had all of my nieces and nephews Christmas presents before Thanksgiving...but this year I do!

I am feeling the pressure of Thanksgiving at my house...yikes!
Sooooo....What are YOU saying
SO WHAT to this week????
Link up
...it's fun, you'll feel better, and I'd love to know!!