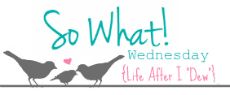 to tell you what I say "
So What" to! Here we go....
So WHAT if:
I think if it's going to be cold out...it might as well snow (but I prefer sun 'n fun)

My dog is so smart, he knows I'm going somewhere as soon as I zip my makeup bag closed -- he gets in his crate (who's a good boy!?)

I've had some wacky rambling posts the last coupla days (oh well, sometimes I'm a wacky rambling girl!!)

I posted my excitement for Real Housewives and The Bachelor on Facebook Monday night and one of my friends gave me a scathing comment about how terrible those shows are...(I know, that's probably part of why I like them!)

I ordered myself some UGG slippers yesterday (that I don't really need) 'cause they were such a good deal (I can't pass up a deal)

I got tears in my eyes when I happened to see Ashley Robles's audition on American Idol last night --- omg - goosebumps! (anyone see it?)

I stopped this post twice because I thought Shannon wasn't So Whating this week when I saw the words I am "foregoing SWW this week" on her blog....duh, I should slow down and read the whole post!

I'm on the way out the door so I'll have to end my "So Whats" now............
Sooooo....What are YOU saying
SO WHAT to this week????
Link up
...it's fun, you'll feel better, and I'd love to know!!