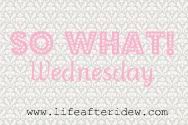 to tell you what I say "
So What" to! Here we go....
So WHAT if:
I lost my "So What" groove for a couple weeks. No worries...I'm baaaaack and ready to "So What"!!

I made nachos last night and called it dinner...the husband was golfing and it was only me and two of my kids

Cooking in the summer to me is either grilling, salads or BLTs...

We've had our dog for a year and we still constantly take pictures of him ('cause everything he does is "so cute")
I texted my 13 year old daughter at camp and she said she was fine but could I please stop bugging her....she's "really busy"! (Teenagers!)

I need an emergency appointment with my hair stylist/colorist!

I made my kids go in the Disney Store with me at the mall yesterday...you're never too old for Disney and I have such fun memories of buying them all kinds of stuff there when they were little :)
I just started reading The Help and am in a race to finish it before seeing the movie (which starts today!)

My kids keep saying "we're hungry" and I keep saying "just a minute" so I could finish this ;)
Sooooo....What are YOU saying
SO WHAT to this week????
Link up
...it's fun, you'll feel better, and I'd love to know!!