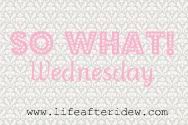 It's SO WHAT! Wednesday and I'm linking up with Life After I "Dew"
to tell you what I say "
So What" to! Here we go....
So WHAT if:
I think baseball is the slowest-longest game ever -- that goes for both 9-inning professional games and my son's 6-inning games (and don't even say "extra innings")

one of my happiest moments this week was when "Boston Rob" won Survivor Redemption Island (I have always liked that guy!)

I did the happy dance when my daughter's soccer game was cancelled on Sunday because of rain...we finally got a semi-lazy Sunday

I went crazy at Kohl's yesterday with my extra 30 percent off - it was fun (Total Saved $299...lots of clearance deals)!

I am seriously thinking of going back to Kohl's today (last day of coupon)...to make sure I didn't forget anything ;)

I loved watching the season opener of the Real Housewives of New Jersey Monday night -- what a train wreck!!

I "surprised" my husband with a pile of mulch on our driveway -- that's one way to get the "Honey Do" list going

I haven't had time to blog much of anything lately...but seem to have no problem whipping up a SO WHAT Wednesday list!!
Sooooo....
What are YOU saying SO WHAT to this week????
Link up...it's fun and I'd love to know!!