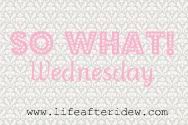 It's SO WHAT! Wednesday and I'm linking up with Shannon at Life After I "Dew"
to tell you what I say "
So What" to! Here we go....
So WHAT if:
I need to get in the shower but instead would rather say "So What" to some stuff

my girls were writing notes back and forth during my son's piano recital...and I decided to discreetly join in (not very mature, right?)!!

there are many days I would rather snuggle with my dog than my husband (lol)

I went to Lowes with my husband and instead of him getting the parts he planned on to fix our grill -- I said "just get a new grill (and Happy Father's Day early)" So we did!

our new grill looks nicer than our deck because our deck needs to be restained

I frantically tidied up my house yesterday because my mom's BFF was coming over and then I made pitcher of fresh lemonade and acted like my house is always clean (not!)

I admire Oprah so much (see yesterday's post) that I would have had an Oprah Farewell Party if the show wasn't on when all my friends have to pick up their kids from school!

I'm pretty sure I will cry after watching the last Oprah show today...I do stuff like that and my kids think it's hilarious and ridiculous all at the same time (So What)!!
Sooooo....What are YOU saying
Link up
...it's fun, you'll feel better, and I'd love to know!!