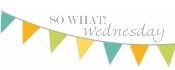 It's SO WHAT! Wednesday and I'm linking up with Shannon at
Life After I "Dew"
to tell you what I say "
So What" to! Here we go....
So WHAT if:
I went to Target last night with high hopes of shopping holiday clearances and didn't find anything exciting

I could not have accomplished everything over the holidays without my 14-year-old daughter's help (awesome!)

I got an iPad for Christmas, but am using my laptop to type this because it's faster

I realized the light fixture over my kitchen table never got cleaned before my Christmas Eve company came -- can you say dusty and embarassing!

in Michigan we did not have a white Christmas, but we have a white December 28th

My dog woke me up early this morning because the giant helium fish my son got for Christmas somehow floated down the stairs (and my dog is afraid terrified of it)

I feel a nap coming on....!
Sooooo....What are YOU saying
SO WHAT to this week????
Link up
...it's fun, you'll feel better, and I'd love to know!!