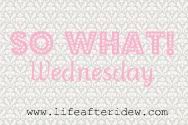 to tell you what I say "
So What" to! Here we go....
So WHAT if:
I was (perhaps) over excited to receive a comment from Shannon herself on So What Wednesday last week! (I'm so "small time" and her blog is so "big time"!)

two of my kids are at the 4H Fair with another mom/teacher -- and the closest I came was "thinking about" bringing them

I just found something I am posting tomorrow that was supposed to be posted...a month ago!!

I was easily conned into driving my daughter and her three girlfriends to our place "up north" for the day just so they could swim in the lake and lay out in the sun on the beach

I stay up way too late during the summer just to get that hour or two of peace and quiet (now that my kids are older, they stay up late, too)

all of my favorite scents of candles are "food related" (vanilla, cinnamon spice, mulled cider, warm apple pie, etc...)

I can't wait to see "Zookeeper"...I don't care if it's stupid...I love Kevin James!

when my mom is bugging me, I run to the laundry room and pull stuff out of the dryer -- she loves to fold and it keeps her busy!!

I took my kids to two 7-Elevens Monday (on 7-11) to get their free (tiny) Slurpees and another mom took them to get another one later in the day...they think it's the coolest thing to get a dinky free Slurpee (3 times)
Sooooo....What are YOU saying
SO WHAT to this week????
Link up
...it's fun, you'll feel better, and I'd love to know!!