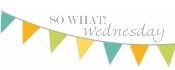 It's SO WHAT! Wednesday and I'm linking up with Shannon at
Life After I "Dew"
to tell you what I say "
So What" to! Here we go....
So WHAT if:
I'm getting my shopping groove back now that the kids are back in school...and I've got the bills to show for it
Every week I wonder how much longer can a hamster possibly live...the cage is really an eye sore in my family room...lol
The trickling water in my son's fish aquarium makes me have to go to the bathroom every time I walk by
In my old age I'm starting to like crisp fall weather better than hot humid summers

My son thinks I bought him new $60 Adidas running shoes...really I found them for $12 on clearance...and I had a 30% off coupon ;)

I keep thinking about the cheesecake we had for dessert last night (we split once slice for four people)...and I want more for breakfast!
Sooooo....What are YOU saying
SO WHAT to this week????
Link up
...it's fun, you'll feel better, and I'd love to know!!