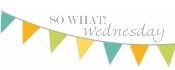 It's SO WHAT! Wednesday and I'm linking up with Shannon at
Life After I "Dew"
to tell you what I say "
So What" to! Here we go....
So WHAT if:
I become more of a "sports fan" when my teams are in the playoffs than during the regular season

Our Lions have not had another 5-0 start...since my mom was 12 years old!

One of my daughters Kristin is literally asking me to take pictures of her for my blog and then telling me what I should say about her

my teenage daughter is starting to act more and more like...a teenage daughter

In a rush, I drove my kids to their soccer games without my contacts in...I can still see ok without them and everyone is fine...lol

I'm glad my husband is finally on a business trip

I've been getting the "church giggles" a lot lately (out of control laughter in inappropriate places)

we havent' been to the cider mill yet this fall...the weather has been unseasonably warm and I like to go when it's a bit chilly out

The "Real Housewives" might even be getting too crazy for me (well, almost)

My "So Whats" probably don't make sense...I'm sleep deprived from watching sports!
Sooooo....What are YOU saying
SO WHAT to this week????
Link up
...it's fun, you'll feel better, and I'd love to know!!