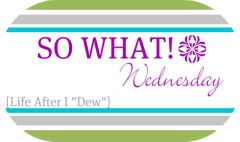 It's SO WHAT! Wednesday and I'm linking up with Shannon at
Life After I "Dew"
to tell you what I say "
So What" to! Here we go....
So WHAT if:
Our Detroit Tigers didn't go all the way, but at least it was fun while it lasted

I've been scaring myself with the amount of sports I've been watching this past week -- complete with listening to the Lions game in the car when I had to pick up my daughter

My 11 year old daughter is reading this over my shoulder...can't a mom get a break!

I froze my *** off at a soccer game on Saturday morning and couldn't wait for it to end

My kids continually walk past their own folded clothes when I put them on the stairway as if they don't see them

My dog is soooo sweet that one of these days I'm just going to lay on the couch and cuddle with him all day

You know your kids are getting older when they don't talk about Halloween every day...or barely at all

I think my house would be immaculate if I never went on the computer or watched TV (don't tell my husband)

I've been complaining for four days about how my husband acts like a baby when he has a cold...now I'm getting said cold...I know, it's a curse!
Sooooo....What are YOU saying
SO WHAT to this week????
Link up
...it's fun, you'll feel better, and I'd love to know!!