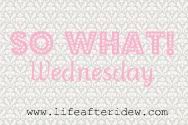 to tell you what I say "
So What" to! Here we go....
So WHAT if:
I actually felt a little panicked when Shannon said she was taking a Blog-cation...'cause then I would have to have a "real" post for Wednesday

I kinda like parking in the handicapped parking when I'm with my mom (who has a permit)

I went to pick up my kids on their last day of elementary school and then one of them ended up going home with a friend and the other decided to take the bus home since it was the last day (and he wanted the ice cream the bus driver was handing out!)

It's my kids first day of summer vacation and one of them (Jacob) has already said "I'm bored"....just to irritate me

I asked my kids if they would play outside last night so I could watch the Real Housewives of Orange County Reunion on DVR (yes, they did!)

I just went to the ATM in my pajamas so my son could pay his piano teacher this morning (long story)

most of my so whats are about my kids...they give me a lot of material

I started this blog for writing therapy and friends and family...and now have found myself wanting comments and followers from people besides friends and family, too :)
Sooooo....What are YOU saying
SO WHAT to this week????
Link up
...it's fun, you'll feel better, and I'd love to know!!