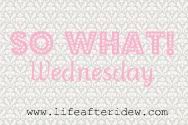 to tell you what I say "
So What" to! Here we go....
So WHAT if:
I knew Wednesday was going to sneak up on me this week, so I started "so whating" on Monday night (smart, right!?)

I insisted my family "walk faster" 'cause I thought we were going to be late for the Memorial Day parade...and then we were not late and the parade ended up lasting 15 minutes...tops!!! (oops...my bad, small town parade up north)

I am overdue for a spa pedicure but have still been wearing flip flops ...I have been super busy and I always feel guilty doing things for me...(but I will this week...don't worry!)

Me and my "Lucky" dog took cover in the basement Saturday night when the tornado sirens went off...I don't mess with that stuff ever since I saw what "straight line winds" did to the next subdivision over from me

I have watched almost every Bachelor and Bachelorette in spite of the fact that the couples rarely stay together and I say I will never watch again...

I feel a sense of anxiety in anticipation of the school year coming to an end...so many things on my "to do" list I wanted done before summer vacation

The shipping for my "Oprah Winfrey Show" shirt cost more than the shirt...it was on clearance, got here in three days, and I have no regrets!
Sooooo....What are YOU saying
Link up
...it's fun, you'll feel better, and I'd love to know!!