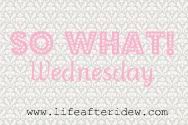 to tell you what I say "
So What" to! Here we go....
So WHAT if:
I didn't "So What" last week...because I thought it was inappropriate to "So What" on the day two of my children were born...

I have had a Slurpee (or the equivalent) with my kids just about every other day this week...nothing like it on a hot summer day (yep, pure sugar)!!

I had to write an I.O.U. to my daughter because I didn't have the exact change for something

I'm starting my So What list while watching David Letterman at midnight...I really should go to bed earlier, but we all have our priorities, right!?

We gave my two 11 year olds texting cell phones for their birthdays...after I told sooo many of my friends...."don't get your kid a cell phone until they are at least 13"!! (Oops, things change...never say never)

The first thing my kids did this morning was argue over who gets the last bagel -- ahhh summer time!
Sooooo....What are YOU saying
SO WHAT to this week????
Link up
...it's fun, you'll feel better, and I'd love to know!!