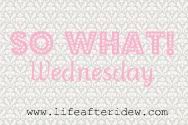 to tell you what I say "
So What" to! Here we go....
So WHAT if:
I spent WAAAAYYY too much time on this....blogger kept giving me an error message every time I tried to save my post....!!! Ugh! (excuse the errors...)

I am already feeling emotional about my youngest two (twins) graduating elementary school at the same time as my oldest graduates middle school
I don't have any teacher gifts yet...at least I have until Tuesday and I always figure something out!! (but feel free to leave a good idea if you have one ;) !!)

the more there is to blog about, the less I feel like blogging...sometimes I just don't want to rehash everything!

My son's baseball game tonite just got postponed 15 (whole) minutes due to extreme heat...and I'm secretly hoping it just gets cancelled!!!!

We haven't planted one perennial yet...just crazy busy!
my husband is out of town and I've already decided that means I'm not cooking

I am supposed to be in three places at the same time tonite and I haven't quite figured out how I am going to do that

I often spray mist my kids cotton shirts with water instead of ironing them...don't judge...it works!

my son hit a home run at his baseball game on Saturday and I missed it (actually, that's not a so what....that's a so sad) :(

my kids grades are posted on the school website and I stalk it every day to make sure they are keeping up and see how they are doing

I could "so what" all day because next on my list is cleaning 3 bathrooms!
Sooooo....What are YOU saying
SO WHAT to this week????
Link up
...it's fun, you'll feel better, and I'd love to know!!